Fiberglass vs. Steel Measuring Tape: Which One Is Right for You?
Whether it's surveying, engineering or construction, measuring tapes are some of the most important tools used throughout many phases of a project. Every measurement requires total precision and accuracy, so using the right type of measuring tape is integral to a project's success.
Fiberglass and steel measuring tapes have long been popular choices across several industries. While they share several important features, there are also some distinct advantages to using one over the other depending on the job. Let's break down the features and benefits of fiberglass and steel blades and see which one you should choose for your project.
Best Uses for Fiberglass Measuring Tapes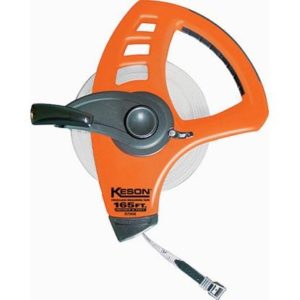 Fiberglass tape measures are an ideal choice for numerous work environments and tend to work well in the fields of surveying, engineering, and building and construction. They are designed to withstand the wear and tear that occurs at outdoor worksites while giving you the level of accuracy you need to complete your projects.
In addition to their high level of durability, fiberglass tapes are rust-resistant (even to saltwater), tear-resistant and tend to be a more economical option when compared to steel tape. Another great benefit of fiberglass is that these tapes are safe to use around electrical hazards since they don't conduct electricity like steel tapes.
Here are some things to consider when choosing fiberglass measuring tapes.
Look at fiber count. If your job requires a lot of measuring, you will want a heavy-duty fiberglass tape that is made with the strongest fibers.
Choose the right tape weight You want a tape that is as thin as possible. The thinner the blade, the less affected it will be in windy conditions, allowing for more accurate measurements.
Pay attention to stretching To keep fiberglass tape measurements as accurate as possible, don't pull on the tape too hard. These tapes will stretch, which can throw off your measurement. But don't worry; if the tape has a high fiberglass strand count, it should return to its proper length.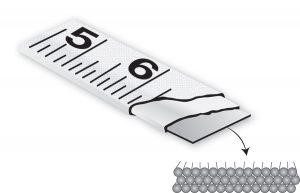 Keson's fiberglass tape blades are more than twice as strong as the competition's blade.
Keson fiberglass reinforced tapes are great examples of fiberglass measuring tapes that are very durable and can withstand extreme amounts of wear and tear. In fact, it was Roy Nosek, the founder of Keson, who introduced the first fiberglass long tape measure to the U.S. market in 1968.
Keson fiberglass measuring tapes contain 40,000 fiberglass strands, giving them more tensile strength and superior accuracy. Two coats of PVC also protect these tapes from breaking. One coat is used to bind the fiberglass strands and a second coat is applied to the printed units to prevent the numbers from fading or wearing off.
Some fiberglass tapes are known for breaking at the attachment point, which is why the Keson fiberglass tape has an added blade shield  to supply more strength to this area and prevent breakage. These tapes also have a proven dielectric strength of 200,000 V/M to ensure your safety from electrical hazards.
Best Uses for Steel Measuring Tapes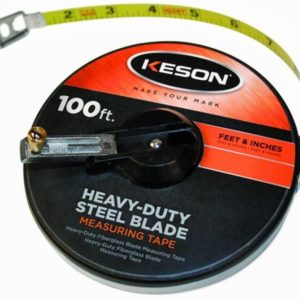 In one form or another, steel measuring tapes have been around since the 1800s and are, by far, the most common type of measuring blade seen throughout the surveying, engineering, and building and construction industries.
Most of the pocket measuring tapes we are used to seeing have metal blades. In fact, steel is the most common type of measuring tape found in homes for DIY projects. When compared to fiberglass, steel has the advantage of being more durable over time with a longer life expectancy.
Perhaps the most important thing to consider when using steel tape is that it's not safe to use around electrical hazards. While steel tapes won't stretch like fiberglass, they can be affected by extreme heat which will impact their level of accuracy. Working around water is also a consideration since steel blades can rust.
Here are some things to consider when choosing steel measuring tapes.
Look for coated steel. A nylon or lacquer coating (or several layers of coating) will protect steel from rust and wear.
Choose the right blade width. 3/8-inch wide blades are about 10-20% lighter than 1/2-inch wide blades, without sacrificing durability. Thinner blades are also less likely to move around in windy weather.
Determine level of flexibility needed: Steel isn't as flexible as fiberglass, so it may be difficult to use when measuring on certain curved surfaces.
Keson's multi-layer steel long tape measures last up to three times longer than the competition.
Keson nylon-coated steel tapes meet all the strength and durability standards you're looking for in a steel measuring tape. Made with double layered .2mm nylon that is permanently bonded over a center core of 13mm steel, these uniquely designed tapes offer maximum corrosion resistance and provide at least three times the usual tape life.
How Do Your Tools Measure Up?
Regardless of the industry, all projects call for precise and accurate measurements. Knowing which type of measuring tape is ideal for your job is the first step toward a project's success.
Want to learn more about finding the most accurate measuring tools for your industry? Check out Keson's blog to find information about measurement tools, their many uses and how to get the most precise results in your work. Or call 1-800-345-3766 and our customer service team will help you find the distributor nearest you.