A Guide to Construction Measuring Tools
There's more to construction than hammering in nails. Before you start building, it's important to ensure every measurement you take is accurate, such as position, length, height, width, plumb and level. To get the best measurements, you need to have a full range of measuring tools at your disposal.
With new innovations occurring in the industry daily, measuring tools have become both more precise and more specialized. Make sure you're using the right tool for the job with this guide to measuring tools.
Measuring Wheels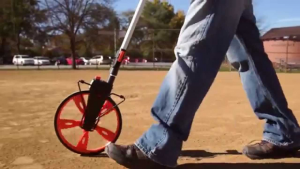 When you need to measure a lot, plot of land or mark off a foundation, you need a different tool than a standard measuring tape. Measuring wheels roll off a distance quickly, without an unwieldy tape which may not be long enough to cover the perimeter of a lot. They move with you, so as you walk, you can quickly mark the size and distance of any plot of land.
Looking to estimate the edging you're going to need for a garden? A measuring wheel is a terrific estimating tool. It only takes one person to operate, and if used carefully, it will provide very accurate measurements.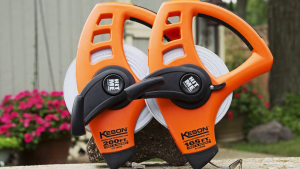 Long Tapes
Long tapes are durable, tough tape measures that can handle much larger areas than a standard tape measure. They come in multiple housings, including stainless steel and ABS, so no matter what weather or job site conditions you operate in, the housing will hold up to the job.
Long tapes can also retract at varying speeds, letting you opt for the model that best fits your needs. Determining linear distances with a long tape are great because you can actually see and plot the exact line you are measuring. Using one by yourself is a little tricky as you need to fix the zero end of the tape to your starting point, or you can have someone hold it.
Short Tape Measures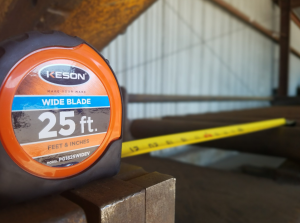 By far the most common job site measuring tool, no tradesperson would ever be without one. A short tape measure is a small, stiff tape meant for measuring areas of up to 40 feet. Twenty-five and thirty-foot versions are the most common. They come with different options, including bold numbers, rubber grips, ultra-bright blades for easy reading in low light.
Heating, ventilation and air conditioning (HVAC) workers and steel frame builders of commercial construction often prefer magnetic tips that will stick to a metal surface and let you back off up to around 10 feet or more. Short tapes easily tuck into a work bag, bucket toolbox, clip onto your pants belt or your tool belt. There are even some that will into your pocket for quick access, so you always have one nearby.
Pocket Rods
A compact tool, a pocket rod gives you quick, accurate measurements of vertical grades, such as the depth of trenches, of swimming pools and of foundations. This pocket-sized tool will give you a level vertical reading and can also be used to provide scale in photographs, for instance for insurance adjusters taking pictures of auto damage. Often times these can be a backup tool for a surveyor.
Diameter Tape Measures
Measuring around an object or item is difficult with a standard, stiff cambered tape measure. That's where the diameter tape measure can help. Flexible and with a 6-foot range, it gives accurate circumference measurements of pipes, trees and other objects round and roundish objects.
What's more, they usually come with a flip side that has a scale that has been multiplied by pi. This way, you can measure the circumference of a tube and the reading on the adjusted scale can give you the exact diameter. These tapes are available in many difference scales. Feet and inches, feet and 10ths of a foot and metric being the most common.
Wood Rulers
When you're on your own and need to take a quick measurement without something or someone to hold the end of a tape, a wood ruler can help. These rulers are able to unfold and spring back quickly, and they hold a rigid position when open, so you can take fast measurements on your own. Great for depths and in windy conditions these stiff and adjustable tools extend easily and fold down for storage.
Surveyor's Rope
Surveyors need to take accurate measurements of a variety of property types. While a wheel will work well when the ground is close to level, it won't work over rough ground. A surveyor's rope, however, can be dragged over any surface, allowing you to get accurate measurements no matter what the terrain.
Levels

When you're taking the measurement of an object, you likely also need to determine if it's plumb or level. A level containing a FOCUS Vial lets you determine at a glance if something is level to within .5mm/m, .0005in/in, and .029 degrees. Choose a level that is tough enough to handle the stress of a job site while still giving you accurate readings each time.
Tally Meter
Tally meters help you keep an accurate count of amounts on the job site. Whether you're keeping track of materials or the number of times an object has been measured, a tally meter makes keeping track simple. Just push the button for each count and let it keep track for you. You can tally up the number of wheelbarrows of concrete poured into a driveway or the number of times the new guy screws up.
Measure Up
With the many ways you need to measure and calculate on the job, it's important to make sure you have all the tools you need at hand. Check out the selection at Keson to get the best measuring tool for every job.